Recrutement de leaders politiques pour le Gouvernement Canadien
Chaque année, le programme de Recrutement de leaders en politiques cherche à recruter des universitaires, scientifiques et professionnels talentueux et accomplis.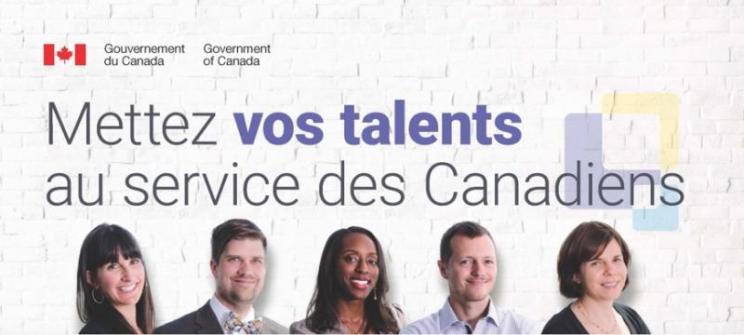 Ce programme ouvert aux étudiants canadiens vous offre une occasion unique d'entreprendre ,une carrière stimulante et diversifiée dans la fonction publique fédérale et de faire une différence dans la vie des Canadiens et de nos communautés.
En savoir plus sur le programme et conditions d'admissibilité
Ce programme vise à recruter des postulants qui :
se démarquent par leur excellence dans leurs études universitaires;
manifestent un vif intérêt pour les politiques publiques;
possèdent une expérience attestant de leur leadership et de leur dévouement;
sont engagés dans leur communauté;
ont obtenu (ou sont en voie d'obtenir) une maîtrise, un doctorat, ou un diplôme en droit jumelé à un diplôme de premier cycle dans n'importe quelle autre discipline.
Devenez un leader en politiques
Pour la campagne 2019-2020, nous cherchons des leaders pour des postes d'analystes des politiques de niveau intermédiaire ou supérieur. Les personnes retenues joindront un réseau dynamique qui contribue à définir l'orientation des politiques publiques au Canada.
SOUMETTEZ VOTRE CANDIDATURE EN LIGNE, DU 23 OCTOBRE AU 6 NOVEMBRE 2019
Postulez à Emplois GC ou visitez notre page Web : www.canada.ca/recrutement-leaders-politiques
17:00
13, rue de l'Université salle Sciences Po carrières
75007
paris France
---
You have to sign in to take part in this event
Sign in
21.08.2019
The 2019 Graduate Employability Survey asked the Class of 2017 what they were up to now. Their responses indicated that Sciences Po graduates are entering the job market even more quickly than in previous years, with 87% landing a job less than 6 months after graduating (compared to 83.6% for the Class of 2016).
25.09.2019
On Friday 27 september 2019 from 10am to 5pm, the Sciences Po Careers Fair will gather at Porte de Versailles more than 100 participants (amongst which companies, public administrations, international organisations...) willing to recruit our students and graduates in a wide range of industries and activities.
Read more news