Accueil
> Niklas, Dual degree, international career
Niklas, Dual degree, international career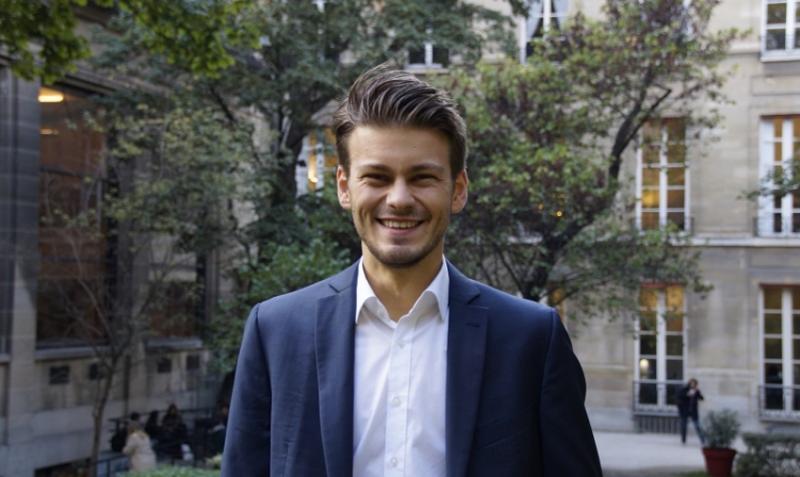 Donor Relations and Resource Mobilization coordinator at IOM Germany, Niklas Luksch graduated in 2018 from the Master in European Affairs, Dual degree with Fudan University.
Can you describe your academic and professional background?
I have always been passionate about politics. After graduating from high school in Germany, I sought to explore the subject in more depth. Hence, pursuing an undergraduate degree in Politics & International Relations at the University of Aberdeen in Scotland was an easy choice. As part of that program, I spent two semesters at the University of Illinois at Urbana-Champaign, USA. Back then, I started developing a particular interest in international peace studies. Through internships at the cultural program department at the Goethe Institute in Ramallah, Palestinian Territories, and the office of Konrad-Adenauer-Foundation (KAS) in Phnom Penh, Cambodia, I complemented my theoretical knowledge on the sources of war and conflict with some initial working experience in two conflict-ridden societies.
Fascinated by Asia, its rich history and cultural practices, as well as its economic, political and social systems, I decided to enrol in the Master's program "Europe and Asia in Global Affairs" jointly offered by the School of Public Affairs at Sciences Po and the School of International Relations and Public Affairs at Fudan University in Shanghai. I had never lived in France or the PRC before – how could I possibly resist that challenge? Over the course of two years, I had the unique opportunity to study Sino-EU relations from a cultural, economic and political perspective – while experiencing firsthand the daily life at the heart of both worlds.
What were the main stages in the construction of your professional project?
In between my undergraduate and graduate studies, I interned at the International Organization for Migration (IOM) Mission in Malta. There, I had the privilege of serving the most vulnerable. I felt that my actions made a small but important difference in the lives of others. I instantly knew that this was the kind of international career I wanted to pursue following graduation.
Shortly before moving to the PRC for the second year of my Master's program, I had the opportunity to intern at the Near East Division of the German Federal Ministry for Economic Cooperation and Development (BMZ). This way, I was able to complement the "hands-on" experiences I had previously acquired with invaluable insights into the political decision-making processes that frequently shape responses to crisis situations.
Against this background, my prime objective has always been to enter the "UN universe". I strongly believed that such a career path would allow me to combine the theoretical knowledge and practical experiences that I had gained over the course of the past few years with my strong desire to work on current issues in an international setting and let myself be stimulated by a broad range of perspectives.
How was the recruitment proces at IOM and what are the main characteristics of your job today?
Upon graduation and considering my positive experience with the IOM in Malta, I decided to accept a position as an intern at the IOM Mission in Berlin, Germany. A few months into the internship, the management position for the project I was working on at that time became available. I worked up my courage and decided to apply. Following submission of my CV and a cover letter, I was invited for an interview with the Head of Programs and an HR Manager. I have always enjoyed the multifaceted tasks and the dynamic atmosphere in the office, which is why I accepted the job offer without hesitation.
Initially, I worked on a project that aimed at contributing to the development of a coherent approach to all existing initiatives at the federal level in the field of dignified voluntary return and sustainable reintegration of migrants who are unable or do not wish to remain in Germany. On a day-to-day basis, my tasks involved the conceptualization and organization of workshops, the coordination with various partner organizations, as well as a lot of traveling across Germany. In addition to these more practical tasks, I learned what it means to manage a project – including but not limited to the drafting of progress and final reports, the monitoring of budgets and the development of proposals for the upcoming project cycle.
Currently, I am coordinating IOM Germany's Donor Relations and Resource Mobilization (DRRM) team. In this capacity, I maintain a liaison with the Government of Germany, civil society and other IOs to coordinate and promote ongoing programs, build partnerships and mobilize additional resources. Amongst various other things, this involves organizing regular visits of IOM delegations to Germany, briefings to government and civil society counterparts as well as donor visits, drafting background notes and analyzing German and international migration-related policies. I can truly say that no two days are the same!
What have been the contribution of your academic background at the School of Public Affairs to the position you hold today?
The School of Public Affairs has always encouraged me to apply a multi-disciplinary approach and global perspective to address contemporary challenges in a comprehensive, durable and innovative manner. Be it through classes (Jan Rovny's "Rebuilding Europe" and Patrick Brousse's "Management Essentials and Leadership" come to mind), numerous public lectures with renown speakers or countless (and at times heated) debates with my peers, Sciences Po enabled me to bridge the gap between research and practice. Moreover, until today I continue to draw on the set of soft skills the school equipped me with, including the handling of multiple priorities, managing my time well, providing targeted communication, and striving to lead by example.
In this respect, one personal highlight certainly was representing Sciences Po at the "National Model United Nations" (NMUN) Conference in New York, USA as part of the "Projet Collectif". Over the course of one year, together with 20 fellow students from different Master's programs, I immersed myself in the field of international relations, learned about some of the key principles of bilateral and multilateral negotiations, and drafted policy papers for the NMUN Committee. It is safe to say that this experience reinforced my strong interest in working in an International Organization.
Do you have any advice for a student who wants to work in an international organisation today?
Working for an International Organization means striving to address the major challenges of our time through multilateral action and cooperating with those that are not always "like-minded". Hence, it is important to surround yourself with peers that challenge your own perspectives and start collecting work experience abroad – ideally, outside of Europe – alongside your studies.
LEARN MORE:
Mise à jour 25/10/2021
04.09.2023
Vous souhaitez recruter un stagiaire, un apprenti ou un futur collaborateur à Sciences Po? Découvrez les calendriers des stages et apprentissages de Sciences Po selon les profils recherchés. Tout au long de l'année, vous pouvez déposer vos offres sur nos jobboards et participer en présentiel ou à distance à nos Forums et événements carrières.
06.09.2023
Créée par deux diplômés de la promotion 2020 de l'Ecole de droit : Agnès de Fortanier (master Droit économique) et Thomas Harbor (double diplôme Sciences Po HEC), What's up EU est une newsletter qui propose un résumé hebdomadaire concis, bien documenté et informatif des actualités importantes de l'Union Européenne. Questions à Augustin Bourleaud, étudiant du double diplôme Sciences Po / London School of Economics qui supervise depuis septembre 2022 la newsletter.
Voir toutes les actus