Careers in the Americas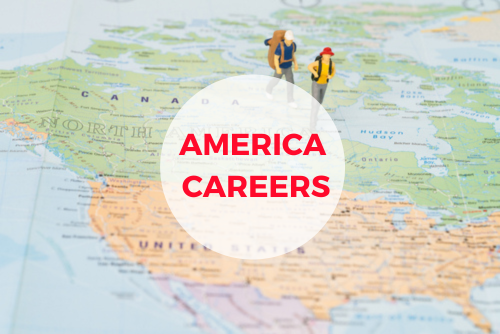 One out of every three graduates starts their career abroad! That is what Sciences Po's annual job placement survey shows. Of the graduates interviewed one year after graduation, 12% find their first job in North America (United States or Canada) and 7% in South America or the Caribbean. For one week, Sciences Po Carrières and Sciences Po's Alumni association invite you to discover the careers of those who came before you - and a host of resources available to help you prepare for their professional future on the American continent.
REPLAYS
Living and working in the United States (recorded in February 2022)
Living and working in Canada (recorded in September 2021)
sciences po's ALUMNI network in america
Northern America
International sections in the United-States
Alumni activities in the US operate under the umbrella of the Sciences Po American Foundation.
The Alumni Committee seeks to foster the community among Sciences Po graduates, and former students generating a valuable and powerful international network anchored in the United States.
Alumni Linkedin Groups by Cities
Career paths of graduates in the United-States
International section in Canada
Latin America
International Section in Brazil
testimonials of graduates
school of public affairs
Frank Gbaguidi, Advisor to the Managing Director at IFC - World Bank Group (Class of 2018)
"I owe it all to Sciences Po Careers! I spent hours sifting through job postings and applying for roles that suited me best. That's how I got my job at the ENA and secured my first experience at the World Bank. For that one, I had a few interviews in the Paris office as well as a written test. In my current role, I advise the Managing Director of IFC, especially on climate change and sustainable development. "
Uma Kalkar, Researcher at the GovLab (Class of 2020)
The Govlab is an action-research center, meaning we reflect on current data governance practices and look for ways to prototype new governance and/or data methods to advance social good. As a GovLabber, I work with a variety of stakeholders in the private sector, international organizations, and government levels across several domains, including food systems sustainability, urban mobility, peace tech, gender, and migration. The interdisciplinary nature of the work requires understanding existing governance strategies from a multi-stakeholder perspective and implementing practical processes to develop minimum viable products that further good governance practices. Two of the many great parts of my job are that no two weeks are alike and that I get to work with many different organizations and geographies!. "
Gesine Werber, rogram assistant at the German Marshall Fund of the United States (Class of 2019)
"After finding the job offer on the career's website of SciencesPo, I sent my CV and a cover letter to the GMF Office in Paris. During my first interview, the program coordinator and the office manager explained the thematic focus of the office and the working methods to me, which boosted my motivation for this job even more. The second interview with the director and the deputy director confirmed this impression - and that is why I accepted the job offer without hesitation.."
school of international affairs
Valentina Lana, fellow at the Marshall Memorial Fellowship Programme.
"I just tried. My recipe was a good mix of preparation, courage, spontaneity, and audacity to dream.
Given the outstanding quality of the research and of the work of the German Marshall Fund in general, and the prestigious alumni who preceded me, I thought the MMF would be one of the most difficult leadership programs to enter.
I had been longing to participate in a leadership development program for years and was a finalist in another program in 2019. Then the pandemic froze all the programs for two years, as in-person interaction and travel abroad are essential components: all of that was made impossible by Covid-mitigation measures.
When the application process was reopened in the summer of 2021, I worked on my essays and tried my luck."
Aurea Santos, Senior Content & Public Relations Strategist at the Rotary International in Brazil.
"I am a Senior Content & Public Relations Strategist at Rotary International in Brazil. Rotary is a humanitarian organization that is mostly known for its clubs. It gives grants to hundreds of development projects around the world, in areas such as health, environment, and education, among others. My role is to promote Rotary's work on our social media channels, blog, website, and also to the media in Brazil. I'm responsible for all content in Portuguese on our official channels and I provide communications support to volunteers who are on the field helping their communities. When it's needed, I also manage image crises in Brazil and Latin American countries."
goinglobal
GoinGlobal helps job and internship seekers find opportunities both at home and abroad. Online, you will find 42 Country Guides, 32 Global and 47 US City Guides, with constantly updated expert career advice on:
employment outlook/industry trends,
local job search resources,
interview and cultural advices,
professional and social networking groups,
and resume/CV guidelines and samples for each country.
Each guide also includes extensive work permit and visa advice based on research conducted by an experienced immigration attorney.
Goinglobal guides in Northern America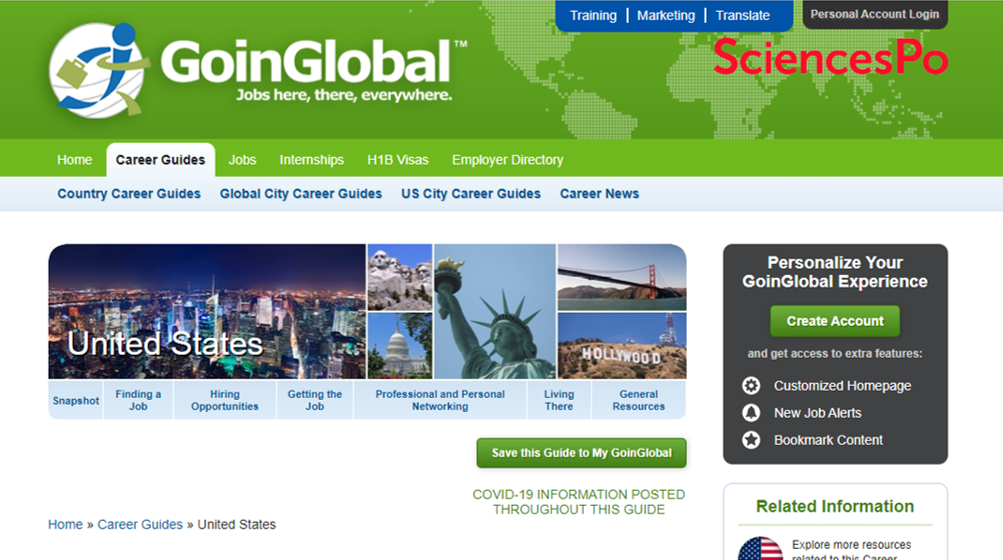 Take advantage of GoinGlobal's constantly updated expert employment advice to fast track a successful job or internship search for the largest metropolitan areas throughout the United States. Topics include: Job search resources, hiring trends, industry overviews, professional and social networking groups, work permit and visa regulations, financial considerations, resume guidelines, interview tips and cultural advice.
Discover the Goinglobal US City Careers Guide
Goinglobal guides in Latin America
Last modified 2023-04-13
04.09.2023
If you are looking for interns or future employees, our guide 'Recruit at Sciences Po' will provide the relevant information about our students, the careers we train them for and how to leverage this great pool of talent to meet your recruitment needs.
06.09.2023
Launched by two graduates (class of 2020) from Law School : Agnès de Fortanier (Master in Economic Law) and Thomas Harbor (dual degree Sciences Po HEC), What's up EU is a newsletter putting together a concise, well-documented, and informative weekly wrap-up of the news that matters at a continental scale — from a European perspective. Sciences Po Careers interviewed Augustin Bourleaud, in charge of its edition, who is currently a double master's degree student between Sciences Po and the London School of Economics.
Read more news