Homepage
> He found his internship at the Job Fair in 2012 – now this 30th of September, Adrien will be recruiting students at the Accenture stand
He found his internship at the Job Fair in 2012 – now this 30th of September, Adrien will be recruiting students at the Accenture stand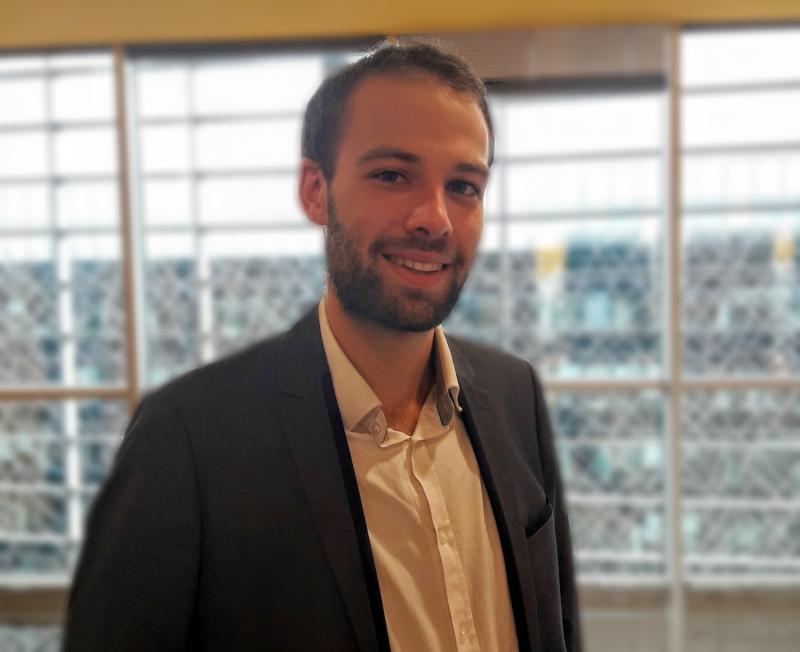 Adrien Gainié entered the dual degree Sciences Po/Paris VI (SCUBE) in 2009 before choosing to do the EPP Master (Polytechnique/ENSAE). During his two years of master's, he attended the 2012 and 2013 editions of the Sciences Po Job Fair. It was then that he found his first gap year internship at Accenture as a Digital Consultant. Four years later, it is as an employee that Adrien Gainié will participate to the Fair, this time to recruit you.
I found one of my gap year internships at the Accenture firm during my first Job Fair in 2012, and it was supposed to start… 8 months after the Fair!

In 2012, at the start of my EPP master, all that I knew for sure was that I was looking for an internship, but I had no precise idea of what kind of internship. I went to the Fair without being seriously prepared. A month before, I had quickly looked at the participating companies and had browsed through some career websites.

Despite this lack of preparation (which I regretted after the Fair), I still managed to find one my three 6 month-internships at Accenture as Consultant in Digital and Analytics, which started… 8 months after the Fair!


"You shouldn't go to the Fair thinking you absolutely have to find an internship or a job: the aim is also to confront yourself to the professional world and to learn how to present yourself. It's a good opportunity to see the large range of job prospects after Sciences Po, and the Fair is still an excellent preparation for future job interviews."
I explained to the recruiter that I wanted to work in the digital sector
I introduced myself at the Accenture stand and gave my CV. I got the opportunity to talk with an employee, and I asked questions about his role and duties in the firm. We discussed my own aspirations as well. I remember explaining that I wanted to work on subjects like digital and analytics. In particular, I mentioned that I was taking econometric classes. That day I didn't take his name or his business card, but if I had the chance to do it again, I would have asked for his email and his business card without hesitating.
Overall, I wasn't very satisfied with myself or my preparation that first year
Among the different companies that I met that day, the best contact I had was with the Accenture recruiter, with whom I had been very proactive. Nonetheless, I felt quite frustrated that I hadn't been able to leave with more contacts and information for my career and this, because I had lacked preparation.
After the Fair, I didn't expect any particular outcome and yet… one month and a half later, Accenture called me to offer me an interview.
I then went for half a day at Accenture for a recruiting session. I received my internship offer a few weeks later.
Between the two Job Fair sessions, I registered for the CV workshops offered by the Career Services and improved my self-presentation.
For the 2013 edition of the Fair, I was convinced that it was necessary to be well prepared so as to make the most of the opportunity. I therefore registered for the Career Services' CV workshops. It was then that I truly realised that in order to catch and retain the recruiter's attention, for one you needed to know the companies you wanted to contact, and secondly you needed to define your career path clearly. I took the time to study 3 or 4 companies, to look at their vacancies and find out who were the people I wanted to meet, decide how I wanted to position myself when I met them… and so prepare a set of talking points to approach them.
The second year, I spent less time at the Fair but my self-presentation was of higher quality. Two companies contacted me after the Fair to offer me an interview. But I had found other opportunities in the meantime.

I was recruited by Accenture a few months after having obtained my EPP master's diploma, as a Digital Consultant.

Indeed, after my gap year internship, Accenture's digital entity's associates several times came back to me offering me a job. I accepted, even before I actually got my graduation diploma.

What does your work consist of?

At the present time, I work with clients to develop their digital services on the basis of the data they collect: internet, connected devices… you need both technical skills for the data analysis, as well as inter-personal and project management skills. I learn new things everyday, that's one of the strong points of the consulting profession.

"To convince the person you're talking to, personalize your approach as much as possible, highlight all the projects to which you've participated, even non-professional…because what really makes a difference, beyond professional experience and diplomas, is your attitude and if the recruiter truly feels you can fit in his company."
Adrien Gainié, consultant digital
To know more
about Adrien Gainié (Linkedin Profile)
about the Accenture firm and its opportunities
Read the article "At the job fair, I don't expect students to know all about the consulting sector."
Last modified 2016-09-20
15.07.2021
The results of the 2021 Graduate Employability Survey on the class of 2019 show that Sciences Po students remain very attractive to employers, with 9 out of 10 graduates in professional activity. Despite a job market facing difficulties, 82% of our 2019 graduates found their first job in less than 6 months, and nearly ¾ of them have a stable profession. There are still just as many (37%) working abroad, in 84 countries. Discover all the results of our survey!
30.08.2021
You are a student looking for information about internships or career fairs? you are an employer willing to recruit our students in jobs or an internship? Find here the list of your Sciences Po Careers
Read more news