Homepage
> Meet the first Mastercard Foundation scholars at SciencesPo
Meet the first Mastercard Foundation scholars at SciencesPo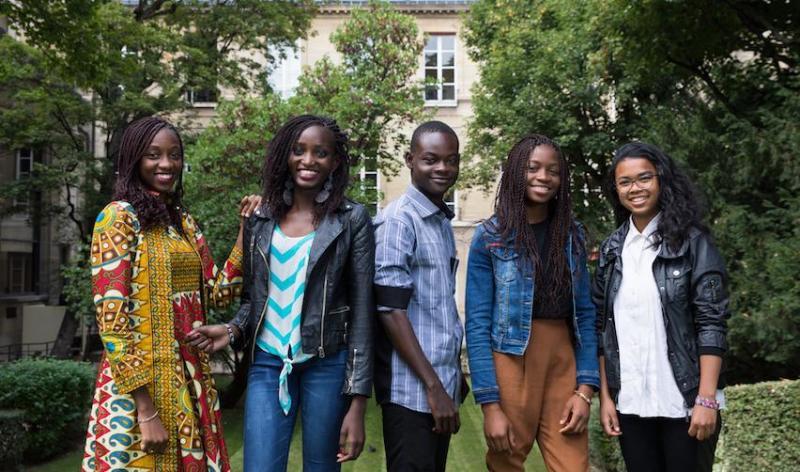 The first five students to benefit from the MasterCard Foundation Scholars Programme at Sciences Po come from across sub-Saharan Africa. Astou Diouf, 18, is from Senegal, Zipporah Gakuu, 19, from Kenya, Romaric Compaore, 18, from Burkina Faso, Ashale Chi, 17, from Cameroon, and Fitiavana Andry, 17, from Madagascar, making this first cohort representative of Africa in all its diversity.
The students are about to begin the Europe-Africa programme on the Reims campus. They will study the social sciences and humanities with a specialised focus on African history, the challenges of economic and urban development in Africa, and the continent's democratic, demographic, and environmental issues. All share the ambition of contributing one day to African development and growth and becoming decision-makers in their home countries.
An orientation week in Paris and Reims
Before starting term on the Reims campus, the students took part in their very own orientation week: discovering the Reims campus and the city, visiting Paris and its iconic monuments such as Notre Dame and the Pantheon, and attending information sessions on life in France, administrative formalities, and managing their student budget.
A six-year scholarship programme to help train Africa's change-makers
The MasterCard Foundation Scholars Programme at Sciences Po will support 120 talented African students over the next six years. Thanks to financial support from the MasterCard Foundation amounting to US$8.2 million (approximately €7.6 million), Sciences Po will offer a new generation of decision-makers a world-class university education in the social sciences and humanities.
The programme is aimed at students from sub-Saharan Africa with an excellent academic record and strong leadership potential, but who face significant entry barriers to higher education. Starting next year, in addition to the Europe-Africa undergraduate programme at the Undergraduate College, the scholars programme will be open to candidates intending to complete a Master's degree at one of Sciences Po's seven graduate schools or the June session of the Summer School.
Applications for the scholarship open at the start of October 2017
Applications for the 2018 scholarship in all categories—Bachelor's, Master's and Summer School—will be launched in early October.
Photo (from left to right): Astou Diouf, Zipporah Gakuu, Romaric Compaoré, Astride Ashale Chi, Fitiavana Andry
More information
About the MasterCard Foundation programme at Sciences Po
About the Europe-Africa programme on the Reims campus
Photo: MasterCard Foundation Scholars on the Sciences Po campus in Paris
Credits: Didier Pazery
Last modified 2017-12-21