Homepage
> Katharina Poirier, Associate at PwC
Katharina Poirier, Associate at PwC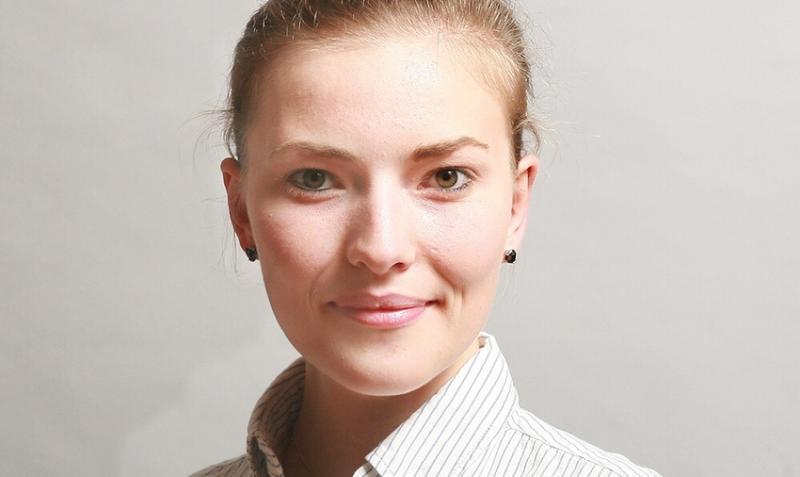 Master in European Affairs, policy stream Energy, promotion 2019.What paths do our graduates take after the School of Public Affairs? Discover Katharina Poirier's testimony. She was a student of the Master of European affairs, Energy policy stream.
Can you describe your academic and professional background?
I first studied my Bachelor in Communication and Management in Hanover, Germany and then my Master in European Affairs at the School of Public Affairs of SciencesPo in Paris, which I completed in 2019. During my studies I specialized in energy, resources and sustainability and had the opportunity to do internships at the UN in Canada and the IEA (OECD) in Paris.
Since 2019 I have been working for PwC in the Energy & Utilities department. I started in Düsseldorf, Germany, and was part of the team of energy audits of renewable energy subsidies. I am currently working as a consultant in the French Portfolio & Programme Management team, working with my colleagues on a successful European energy transition.
What were the main stages of building your career plan?
First, a coherent story. All my experiences, positive and negative, have helped me to orientate myself professionally and help me to make decisions. I have always been passionate about the environment, energy and the European Community. For example, during my bachelor's degree, I started with an internship in the field of biodiversity and then found that the topic of energy transition is a very good link, which I have continued to pursue.
Secondly, many opportunities. In Germany, I did not start with a job, which I had previously imagined. Nevertheless, the professional experience was very enriching and allowed me to move internally to the French team of PwC and now to do exactly what I had wanted to do. It is important to keep your eyes open and to consider different possibilities with regard to your career.
What advice would you give to a student who would engage, as you did, in a consulting?
Especially at the beginning of a career, consulting is a very good opportunity to gain insight into a wide variety of companies and to build a professional network. I recommend everyone to make full use of this network, to organize many business lunches and to learn from the knowledge of others. Every day is exciting, and companies like PwC offer numerous initiatives, working groups and internal business development where you can pursue your passions and specialise your career plan.
What are the main features of your job today?
Varied, instructive and often unpredictable. Therefore it is important in this job to be curious and flexible.
What were the contributions of your training to the function that you hold today?
During my studies at SciencesPo I learned to approach questions and problems in a structured and methodical way. This helps me in my everyday life and is highly appreciated. In addition, the study contents were a very good comprehensive basis for starting in the field of Energy & Utilities. You learn further specialist knowledge during the projects and thanks to your team. Furthermore, teamwork is not only important during the group work at Sciences Po, but also during the job in companies like PwC. So my involvement in the Association of the School of Public Affairs, for example, was a great preparation for the job and for working with other colleagues. I can highly recommend this experience.
Last modified 2020-06-09
04.09.2023
If you are looking for interns or future employees, our guide 'Recruit at Sciences Po' will provide the relevant information about our students, the careers we train them for and how to leverage this great pool of talent to meet your recruitment needs.
06.09.2023
Launched by two graduates (class of 2020) from Law School : Agnès de Fortanier (Master in Economic Law) and Thomas Harbor (dual degree Sciences Po HEC), What's up EU is a newsletter putting together a concise, well-documented, and informative weekly wrap-up of the news that matters at a continental scale — from a European perspective. Sciences Po Careers interviewed Augustin Bourleaud, in charge of its edition, who is currently a double master's degree student between Sciences Po and the London School of Economics.
Read more news