Homepage
> Hugo Côte-Petit-François graduated from the Master in International Security
Hugo Côte-Petit-François graduated from the Master in International Security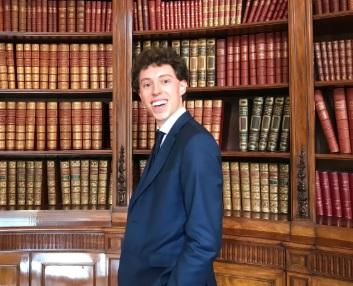 Hugo Côte-Petit-François graduated from the Master in International Security in 2016 with concentrations in Diplomacy and Middle Eastern Studies. Having recently succeeded in the French foreign service examination, he is set to start working at the French Ministry of Foreign Affairs in June 2020.
What made you interested in joining the French Ministry of Foreign Affairs?
My curiosity for international relations initially stemmed from the conjunction of two factors: a passion for international history, and the fact that I studied in a highly international high school, the United World College of the Adriatic in Italy, were 200 students from over 90 different countries lived together on campus. It developed into an interest for a diplomatic career when I was in Menton, but it's only at PSIA that taking the French Foreign Service exams became a concrete plan, where both classes and my third-semester internship allowed me to confirm my passion for diplomacy.
How did you prepare for the examinations?
My preparation was divided into two main segments. First, I spent the past summer preparing for the written stage of the examinations on my own, mostly studying from textbooks and revising notes from some classes I had taken at PSIA. Then, from October onwards, I joined the 'prépa Quai d'Orsay' at Sciences Po, where I studied for the oral exams and took mock exams with different professors and professionals.
How do you think your PSIA experience has helped you?
Initially, I wasn't sure that I had chosen the right master to sit the foreign service exams, seeing how many candidates came from the École d'Affaires publiques. But in fact, studying at PSIA helped me prepare in two main ways, on top of helping convince me that I wanted to pursue a diplomatic career. Firstly, I learnt a lot about international relations, the Middle East, and the world at large, which helped me during the written and oral stages of the Foreign Service exams. For instance, I learnt a lot in classes like 'Conflicts and negotiations in the Middle East' by Jean-Pierre Filiu, 'Actualités juridiques internationales' by Emmanuelle Tourme-Jouannet, or 'Political speechwriting' by Christophe De Voogd.I also developed rigorous working methods, both written and oral. The Grand Oral, specifically, was a really good preparation for my 'Entretien avec le jury'.
Secondly, the internship I did during my third semester gave me a first-hand experience of French diplomacy. By working with the Elysée's deputy diplomatic advisor, I was able to get a much better grasp of the stakes and dynamics of French foreign policy, which proved very helpful during the exam.
What advice would you give to others?
To those wanting to prepare the Foreign Service exams, I would give two pieces of advice: sign up for them as soon as you graduate, even if it doesn't work the first time it will give you useful tools to prepare for the next time; and take advantage of the breadth of classes offered at PSIA to improve your understanding of foreign policy dynamics and the practice of diplomacy. To others — if I may — I would say: enjoy your two years at PSIA, and let your interests and passions guide you. Knowledge acquired with pleasure always turns out to be the most useful in the end.
Last modified 2020-06-19
04.09.2023
If you are looking for interns or future employees, our guide 'Recruit at Sciences Po' will provide the relevant information about our students, the careers we train them for and how to leverage this great pool of talent to meet your recruitment needs.
06.09.2023
Launched by two graduates (class of 2020) from Law School : Agnès de Fortanier (Master in Economic Law) and Thomas Harbor (dual degree Sciences Po HEC), What's up EU is a newsletter putting together a concise, well-documented, and informative weekly wrap-up of the news that matters at a continental scale — from a European perspective. Sciences Po Careers interviewed Augustin Bourleaud, in charge of its edition, who is currently a double master's degree student between Sciences Po and the London School of Economics.
Read more news