Homepage
> Mattia Tomay, graduated in International Public Management (International Governance and Diplomacy)
Mattia Tomay, graduated in International Public Management (International Governance and Diplomacy)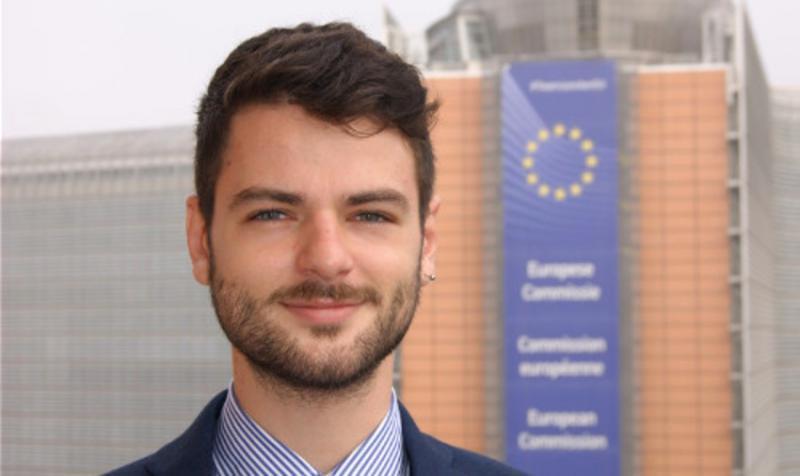 Mattia Tomay has graduated in International Public Management (now named International Governance and Diplomacy). After a first experience at OECD, Mattia has been selected to join the Blue Book Traineeships at the European Commission.
What is your role and main responsibilities?
I very recently took the decision to reorient my career towards the field of EU (economic) affairs, after several years working in the domain of development cooperation. This is my first week as a Bluebook trainee at the Secretariat General of the European Commission, where I joined a unit responsible for policy co-ordination in the areas of the digital transition, industry and single market.
For the past two years and a half, however, I have worked in the Middle East and North Africa Division of the OECD Global Relations Secretariat. Throughout this time, I was mainly involved in the implementation of phase I and II of the EU-OECD Programme on Investment in the Mediterranean, which is part of an Action under the EU Neighbourhood Policy. I would describe my role as being two-pronged. One the one hand, I undertook analytical tasks by, for example, conducting policy research and analysis or assessing the state of an economic sector in a defined country. On the other hand, I contributed to the management of a large project, supporting its design, implementation and monitoring, co-ordinating with donors, planning events and liaising internally and externally with in-house experts and international partners. Focussing on one specific work-stream in a relatively small team allowed me to develop rather specialist knowledge on the topics at hand, while progressively gaining more responsibilities and autonomy. Inter alia, I was also responsible for supporting the co-ordination of horizontal files pertaining Public-Private Dialogue and Covid-19 policy responses across the region.
Working at the OECD truly was a great experience that taught me a whole lot and allowed me to meet wonderful people! Now I am thrilled to put these skills and competences at the service of the EU public administration, and to continue learning while working in an institution that I always dreamed of joining.
How did you secure this role?
At the OECD, I initially joined the team as an intern during my gap year and I was eventually hired first as a consultant and then as a Junior Policy Analyst. As for the European Commission, I applied to the Bluebook Traineeship Programme.
How did your PSIA experience help you with the role?
The diversity of the courses available at PSIA and the ability to build your own curriculum and, therefore, your profile is certainly among the greatest strength of the School.
What advice would you give to others?
An advice I would give young graduates is: Don't be afraid to shake things in your career path! Leaving the OECD after two years and a half for a traineeship in the EU was not an easy choice. I was afraid that I would regret it, that it would be a mistake, that it would not be worth to "start over," and that it would be difficult to explain to my boss or justify it to a future employer. Truth is, when I announced it to my then senior colleagues, they were very happy about this opportunity and made me realise it would be a great chance to gain experience in a different international administration and learn from new people and about new topics. Although I only just started here in Brussels, I can already see how right they were. I know it sounds very cheesy, but I chose to follow my heart and I could not be happier!
Learn more:
Last modified 2021-10-26
04.09.2023
If you are looking for interns or future employees, our guide 'Recruit at Sciences Po' will provide the relevant information about our students, the careers we train them for and how to leverage this great pool of talent to meet your recruitment needs.
06.09.2023
Launched by two graduates (class of 2020) from Law School : Agnès de Fortanier (Master in Economic Law) and Thomas Harbor (dual degree Sciences Po HEC), What's up EU is a newsletter putting together a concise, well-documented, and informative weekly wrap-up of the news that matters at a continental scale — from a European perspective. Sciences Po Careers interviewed Augustin Bourleaud, in charge of its edition, who is currently a double master's degree student between Sciences Po and the London School of Economics.
Read more news