Homepage
> David Vigoureux, graduated in International Development
David Vigoureux, graduated in International Development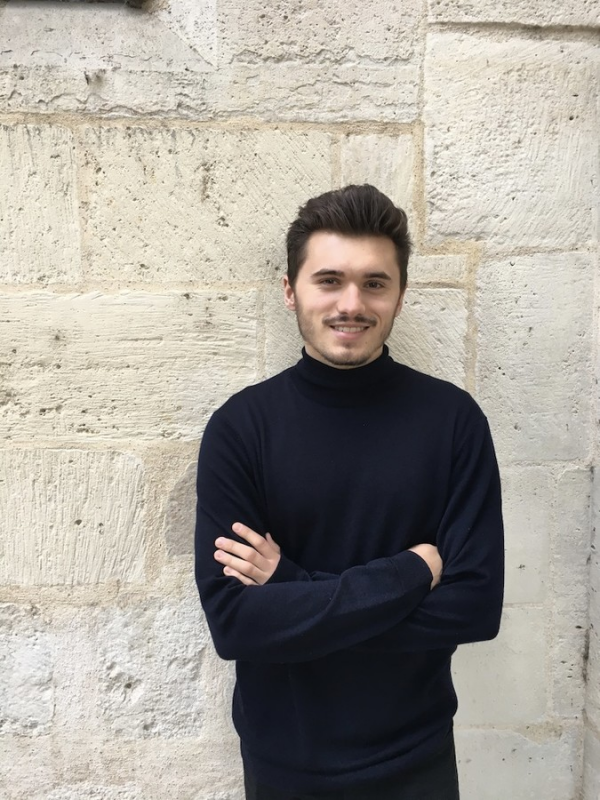 David Vigoureux has graduated from the Master in International Development. He works as an Innovation Executive at Brink in London.
What is your role and main responsibilities?
I work as an innovation coach, which means working with teams that are trying to tackle complex problems by combining different innovation methods (lean impact, human-centred design, agile etc.) I work on two programmes that are in the international development space, the Frontier Technologies Hub and ASToN. The Frontier Technologies Hub works with the UK Foreign, Commonwealth and Development Office to test some of the most promising frontier technologies (like Blockchain, 3D printing, drones etc.) in developing country contexts. I work with teams that have a relatively small pot of money to test so they have to be efficient about the way they learn about the potential solution. I also work on communications, including the programme's Medium account and Twitter, as well as building a community of FCDO advisors who are associated with the programme. ASToN is a AFD-funded network of 11 African local authorities (like the City of Kigali) who are trying to conduct a digitalisation project within their city. It's based off a EU network called URBACT and is designed to be about peer-to-peer learning between the cities. At the moment my role is about facilitating interactions within the network and producing learning and network events. It's a really small team that means I get to help design the programme with colleagues in Paris.
How did you secure this role?
I contacted one of the founders on LinkedIn and discussed one of their permanent roles but it wasn't right for me (it needed French skills that I didn't have). But I followed the company over the next few months until they posted an internship.
What is the most fascinating and/or surprising aspect at your role?
My role is a lot about working with people. Each programme I work on is made up of different organisations who specialise in different aspects. And as a coach or community builder, my work is also about asking the right questions and thinking about the bigger picture more than it is about particular deliverables. One of the most interesting things for me has been facilitating sessions during Covid times, particularly for the cities of ASToN, where moving to Zoom and using simultaneous translation has been a novel experience. Trying to form strong connections within the network has been a challenging but rewarding experience and I'm fascinated to see where the ASToN network will go in the future. It's definitely been fun.
How did your PSIA experience help you with the role?
I think the well-rounded approach that PSIA brought to the master's degree has been useful because it offered a solid understanding of the development sector and other international issues. Learning French at Sciences Po has also been really useful as I use it often in my work, even if it's not at a very high level!
What advice would you give to others?
Velocity over speed. I know there are lots of pressures on people's lives when they move from their master's degree onto work, and even more pressure in the current job market, but I think it can be really useful to make sure you are in the right place over the right position. From my experience, I started with Brink as an intern, which wasn't ideal, but it allowed me to build skills and learn quickly in an area that I think is really interesting. That Brink is also a startup has also helped in terms of taking on responsibility as I grow.
Learn more:
Last modified 2021-10-26
04.09.2023
If you are looking for interns or future employees, our guide 'Recruit at Sciences Po' will provide the relevant information about our students, the careers we train them for and how to leverage this great pool of talent to meet your recruitment needs.
06.09.2023
Launched by two graduates (class of 2020) from Law School : Agnès de Fortanier (Master in Economic Law) and Thomas Harbor (dual degree Sciences Po HEC), What's up EU is a newsletter putting together a concise, well-documented, and informative weekly wrap-up of the news that matters at a continental scale — from a European perspective. Sciences Po Careers interviewed Augustin Bourleaud, in charge of its edition, who is currently a double master's degree student between Sciences Po and the London School of Economics.
Read more news