Homepage
> Elena Ocenic, graduated in International Economic Policy
Elena Ocenic, graduated in International Economic Policy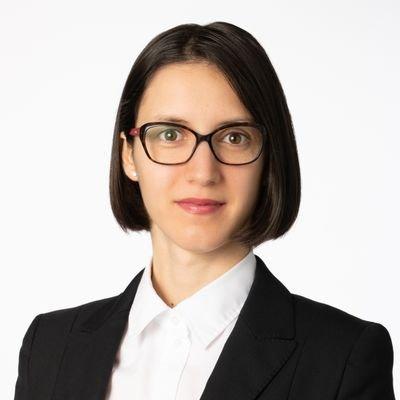 Elena Ocenic completed her Masters degree in International Economic Policy at PSIA in 2010. She is currently an Associate Programme Officer at the International Renewable Energy Agency Innovation and Technology Centre.
What did you study at PSIA?
I obtained my Bachelor degree in Political Science and Economics from the University of Heidelberg (Germany) in 2010 and my Master degree in International Economic Policy with focus on energy from PSIA, Sciences Po Paris (France) in 2012. Given my interest in the liberalisation of the energy markets in the European Union, I wrote my Bachelor thesis on the European gas diversification strategies, which was the starting point of my professional path in the energy sector.
What do you do for work and how did you secure this role?
I am currently working at the International Renewable Energy Agency (IRENA) as an Associate Programme Officer in the innovation team of the IRENA Innovation and Technology Centre (IITC) in Bonn, Germany. I secured this position by applying to a vacancy, following which I was invited to take an online written test and participate to an interview. My main duties include supporting the IITC activities related to networking with other organisations, governments and private sector on innovation for renewable energy and contributing to written outputs in the innovation area, such as the upcoming "Innovation Landscape Report".
Prior to joining IRENA, I was working as a Policy Officer at the Agency for the Cooperation of Energy Regulators (ACER) in Ljubljana, Slovenia, where I was in charge of data collection, processing, analysis and interpretation for the electricity and gas retail volume of the annual Market Monitoring Report. The policy recommendations derived from this comprehensive analysis aimed at improving the market design in the European Union. Over the years, my duties expanded from retail to wholesale electricity market monitoring. Hence, I also specialised in wholesale market topics, such as the efficient use of interconnectors in the intraday and day-ahead market timeframes across Europe.
Before joining ACER, I worked in Paris, as a Business Development Manager for a French solar photovoltaic company. Whilst there, I gained practical insights into the renewable energy industry by managing the development (i.e. administrative, legal, economic and technical aspects) of over 40 large-scale solar projects on industrial/commercial/public rooftops and ground-mounted utility-scale installations, submitted to the public call for tenders launched by the French Energy Regulatory Commission between 2013 and 2015. I also contributed to the development of a project pipeline in a dozen African countries by responding to international calls for tenders.
My previous milestones include internships at the International Atomic Energy Agency in Vienna, the European Parliament in Brussels and teaching assistance experience at Sciences Po.
What is the most fascinating and/or suprising aspect of your role?
The most fascinating and surprising aspect about my current role at IRENA is that is allows me to "connect the dots" of my career, i.e. capitalize on all my previous professional experiences, as well as my academic knowledge. In a short period of time, not only have I worked on topics linking electricity market design with renewable energy sources, but I have also come across several former colleagues both from the private and public sector, as well as a former professor at Sciences Po, which makes me conclude that the (renewable) energy world is, indeed, a small world.
How did your PSIA experience help your with this role?
Studying at PSIA helped me shape my career endeavours in several ways. Shortly after I was accepted for my Master program, Sciences Po announced the creation of PSIA and I was excited to find out that I can choose "International Energy" as a thematic concentration, given the topic of my Bachelor thesis. Moreover, the most inspiring classes I attended were "Politics and Economics of International Energy" by Prof. Giacomo Luciani and "Decarbonisation scenarios and renewable energy sources" by Prof. Manfred Hafner.
What I appreciated about my Master programme was the fact that my colleagues were enthusiastic, highly gifted, truly multicultural students having various academic backgrounds. They were outgoing and open-minded, so I simply loved our discussions which took place mainly outside the classrooms. Furthermore, PSIA offered us, through its various inaugural lectures, the opportunity to interact directly with influential policymakers and key personalities on the international scene, which complemented our formal education with real-world examples.
What adive would you give to others?
My key to success at PSIA was being active on the campus, which helped me integrate by getting to know both the students and the functioning of PSIA. It was vital for me to establish contacts with my colleagues and improve my communication and interpersonal skills. My tip for students today: be proactive, strive for excellence, improve your linguistic skills and overcome personal limitations!
Find out more:
Last modified 2021-10-27
04.09.2023
If you are looking for interns or future employees, our guide 'Recruit at Sciences Po' will provide the relevant information about our students, the careers we train them for and how to leverage this great pool of talent to meet your recruitment needs.
06.09.2023
Launched by two graduates (class of 2020) from Law School : Agnès de Fortanier (Master in Economic Law) and Thomas Harbor (dual degree Sciences Po HEC), What's up EU is a newsletter putting together a concise, well-documented, and informative weekly wrap-up of the news that matters at a continental scale — from a European perspective. Sciences Po Careers interviewed Augustin Bourleaud, in charge of its edition, who is currently a double master's degree student between Sciences Po and the London School of Economics.
Read more news