Homepage
> Astrid, ublic Relations Officer at the Paris Peace Forum - Graduated from the Master in Policital Science, Programme in International Relations
Astrid, ublic Relations Officer at the Paris Peace Forum - Graduated from the Master in Policital Science, Programme in International Relations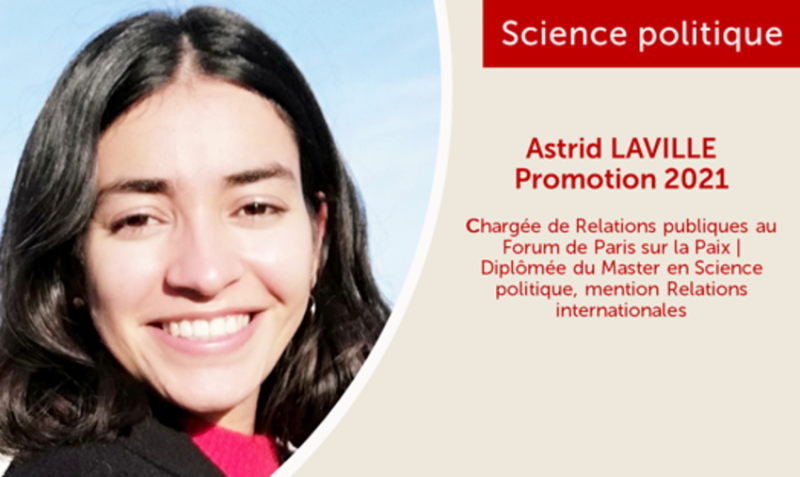 Public Relations Officer at the Paris Peace Forum | Graduated from the Master in Policital Science, Programme in International Relations
Can you tell us about your academic background?
After obtaining my baccalaureate in 2016, I enrolled in "B/L" (Literature and Social Sciences) preparatory classes in Lille. Over a two-year period, I was able to develop my knowledge of history, sociology, and economics, while pursuing my interest in philosophy, literature, and languages. Those two years were probably the richest of my university career, when I felt I discovered and learned the most. However, I have always been attracted to international relations, and I chose to study political science at Panthéon Sorbonne University.
From the first semester of the third year of my degree, I knew I had made the right choice! I took courses on the workings of the European Union and on the history of the international system. The latter course absolutely fascinated me, especially as it informed me about the main currents of opinion in international relations. My interest in theory led me to apply for the Master's in Political Science, specialising in International Relations, at the School of Research. Although I did not yet have a fully defined career plan, I knew that I wanted to discover the world of research.
What did your years of study at the Sciences Po School of Research (formerly the Doctoral School) bring you?
This answer may seem a bit obvious, but first and foremost I learned how to conduct research, i.e. how to build a project, how to choose and implement research methods, and how to draw conclusions by analysing the results. The School of Research teaches students to combine curiosity and caution: conducting rigorous research implies looking beyond one's preconceived ideas, questioning one's own biases, accepting criticism and self-questioning.
Research training enables students to specialise in their chosen subject while keeping an open mind, because of the diversity of the courses. It also sharpened my critical thinking skills.
Last modified 2022-03-18
27.01.2023
If you are looking for interns or future employees, our guide 'Recruit at Sciences Po' will provide the relevant information about our students, the careers we train them for and how to leverage this great pool of talent to meet your recruitment needs.
20.12.2022
On Friday, September 29, the Careers Fair was held for the first time on Sciences Po's 1 Saint Thomas Campus. More than 1,000 Sciences Po students and graduates attended the event where they met with over 70 different employers to discuss internships, apprenticeships and job opportunities.
Read more news