Homepage
> Bedirhan, Research assistant for the Think tank "Arab Reform Initiative" - Master in Policital Science
Bedirhan, Research assistant for the Think tank "Arab Reform Initiative" - Master in Policital Science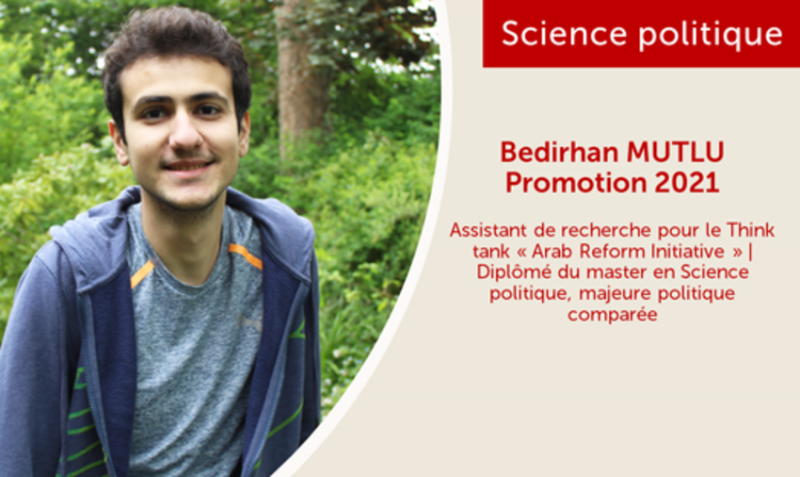 Bedirhan Mutlur, Research assistant for the Think tank "Arab Reform Initiative" | Graduated from the Master in Policital Science
Can you tell us about your academic background?
I joined Sciences Po as an undergraduate on the Menton campus (Middle East and Mediterranean regional specialisation). I did my third-year exchange at the University of Toronto, and then took a break to do an internship in Cairo and another in Paris. I started my Master's degree in Political Science (Comparative Politics major) at the School of Research in 2019 and graduated in 2021 after writing my Master's thesis on the Ennahda Movement and the religious landscape in post-revolutionary Tunisia.
What did your years of study at the Sciences Po School of Research bring you?
I think most obviously the School of Research taught me how to do research. I benefited greatly from the subject courses and methodological teachings at the School of Research, but I learned most when writing my research dissertation, in both the field research and the writing phases. In addition to all this, I was able to meet new friends with whom I share many professional and personal interests.
What were the main stages in forming your carrer plans?
I was interested in research from the start of my university career, which made the choice of a Master's degree at the School of Research a natural one for me. My initial plan at the end of the Master's degree was to enter a PhD programme but I was unable, unfortunately, to find a contract/PhD funding. That's why I joined the Arab Reform Initiative team where I continue to do research in a different setting.
Last modified 2022-03-18
27.01.2023
If you are looking for interns or future employees, our guide 'Recruit at Sciences Po' will provide the relevant information about our students, the careers we train them for and how to leverage this great pool of talent to meet your recruitment needs.
20.12.2022
On Friday, September 29, the Careers Fair was held for the first time on Sciences Po's 1 Saint Thomas Campus. More than 1,000 Sciences Po students and graduates attended the event where they met with over 70 different employers to discuss internships, apprenticeships and job opportunities.
Read more news