Accueil
> Gaia Bellavista, graduated in International Public Management (International Governance and Diplomacy)
Gaia Bellavista, graduated in International Public Management (International Governance and Diplomacy)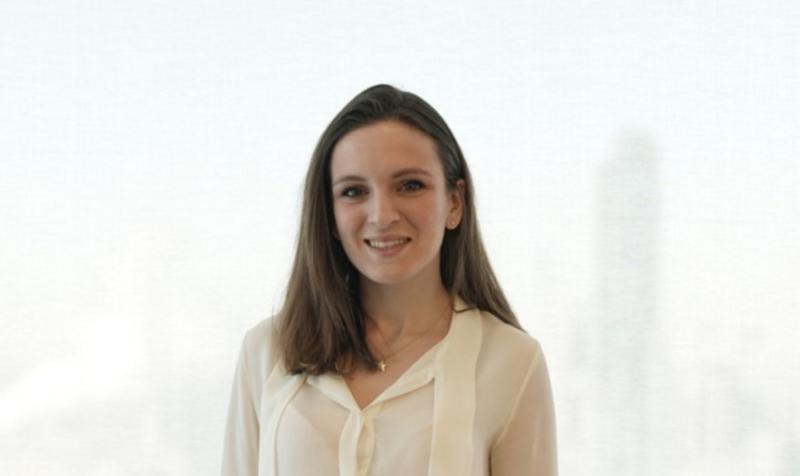 Gaia has graduated in International Public Management (now International Governance and Diplomacy). She is Government and Public Policy Consultant at PwC France and co-founder of the Carbon Neutrality Challenge.
What is your role at PwC and daily responsibilities?
Our Public Sector team is a small, dedicated taskforce supporting in designing and delivering complex transformational programmes: we work mainly with the EU, French government and public sector institutions dealing with unprecedented transformational challenges driven by factors such as demographic changes, the digital economy, the emergence of disruptive factors in the traditional sectors. As we are witnessing the fast-paced changes happening worldwide, my team's mission is to meet them at a faster pace than ever before.
My daily work as intern consists mainly in conducting research and formalizing findings, preparing material for client meetings, supporting the team with the development of proposals. A big part of my day is dedicated to working in close collaboration with the other team members and exploring creative and impactful ways to develop solutions for a mission or project. The types of missions in which we operate include: assisting clients in the uptake of SDG-driven operations and public policies, policy advisory for the protection of biodiversity in the development of renewable energies, preparing the digital transformation strategy of public institutions.
How did you secure this role?
I had the chance of meeting my current co-worker during the Sciences Po Career Fair in October 2020, which allowed me to discover this practice and the type of missions they work on. The more we spoke, the more I was convinced that was exactly what I was looking for! After having submitted an application in May (I waited to graduate first), I have been selected for the second and third round of interviews, during which I have met the current Director.
Aside from your current job, you have recently launched the Carbon Neutrality Challenge, can you explain its purpose?
The Carbon Neutrality Challenge is a fully remote event dedicated to ideation of policy and project solutions by students to tackle the pressing issue of achieving Carbon Neutrality. We decided to create a space for students to showcase their original ideas and proposals and earn the opportunity to influence policy making in the field. To do so, we decided not to give out monetary prizes, but offer students the chance to interact with the most influential entrepreneurs, policymakers and leaders. This is the reason why we decided to host throughout the challenge professionals from organisations such as the EIB, the OECD, AXA Climate, IDDRI, ENEL Green Power, the Council of Europe development Bank, Atos and several smaller think tanks and businesses (e.g. 2tonnes, Changing Habits Solutions, Aktio, JEDI). It is also thanks to their support, and the one from the European Chair of Sustainable Development in Sciences Po, of Projet Declic and We_Start that we have made this project a reality. With a close friend from Sciences Po, Tommaso Buso, we had the idea during the first lockdown. Prior to launching, our goal was to launch an initiative that could make students part of rethinking some of the challenges of our future by showcasing their emerging voice. Tommaso and I have previously participated in the drafting of a G20 policy proposal on Carbon Neutrality, and our job has allowed us to dig deeper into the issue from an operational perspective. We are now a team of 5 people, currently leading a double life between work and the preparation of the event: an incredibly rewarding opportunity, after all!
How can students contribute?
The challenge is open to Sciences Po Master's students only. Applications are currently open and will close on October 31st. You'll find the link to apply on our website, at this link. On our website, we offered resources from our partner institutions to help students know more about the issues they'll be tackling. The website contains also more detailed information about the timeline of the event and the prizes that will be offered. At this time, the Sciences Po community can support us by following our LinkedIn and Facebook pages, where we'll be posting daily updates, articles and videos produced in partnership with our experts. We look forward to receiving your contributions!
What is the most fascinating and/or surprising aspect of this experience?
The most fascinating part of the experience is definitely the part where you witness your idea becoming a final product, thanks to the efforts of the whole team of 5. For us, it is our first entrepreneurial experience and there's nothing more rewarding than seeing it becoming reality, even if this means there'll be times of failure. We have had the chance of meeting people throughout the way that gave us a real boost of confidence when we had our morale down, and that really thought us a lot.
How did your PSIA experience help you?
The connection I made through Sciences Po are an extremely important part of my journey. Friends, colleagues and professors were an endless source of inspiration and motivation. I never stopped learning from their diverse experiences, which helped me challenge myself everyday to think out of the box. Secondly, the program I chose prepared me to be at ease with navigating multidisciplinary topics: an invaluable skill both at work and for the organization of the event. Thanks to the specializing modules I took, in Project Management and Global Economy, I had the chance of acquiring both practical and theoretical tools that are essential in my consultant role. Besides the unique academic experience, PSIA taught me to be curious and open minded, constantly eager to learn and adapt easily.
What advice would you give to others?
First of all, don't be afraid to fail – and if you are, talk to people about your ambitions! You have no idea how much what you do can inspire others, and this will definitely help boosting your confidence even more. Second, be open minded and eager to learn! For our team, it was thanks to our willingness to learn that brought us to dedicate our time to this cause. Don't be afraid to reach out to people, professors or join extracurriculars: you may actually discover your real passion! Finally, don't shy away from seizing opportunities that do not seem suitable for you at first. I never would have thought of launching such an initiative in my early years as a student. Commitment and, in my case, the support of close friends like Tommaso, are an essential part of the journey.
Learn more:
Mise à jour 26/10/2021
04.09.2023
Vous souhaitez recruter un stagiaire, un apprenti ou un futur collaborateur à Sciences Po? Découvrez les calendriers des stages et apprentissages de Sciences Po selon les profils recherchés. Tout au long de l'année, vous pouvez déposer vos offres sur nos jobboards et participer en présentiel ou à distance à nos Forums et événements carrières.
06.09.2023
Créée par deux diplômés de la promotion 2020 de l'Ecole de droit : Agnès de Fortanier (master Droit économique) et Thomas Harbor (double diplôme Sciences Po HEC), What's up EU est une newsletter qui propose un résumé hebdomadaire concis, bien documenté et informatif des actualités importantes de l'Union Européenne. Questions à Augustin Bourleaud, étudiant du double diplôme Sciences Po / London School of Economics qui supervise depuis septembre 2022 la newsletter.
Voir toutes les actus