Homepage
> "My third-year internship in Hong Kong in the Bordeaux fine wines trade"
"My third-year internship in Hong Kong in the Bordeaux fine wines trade"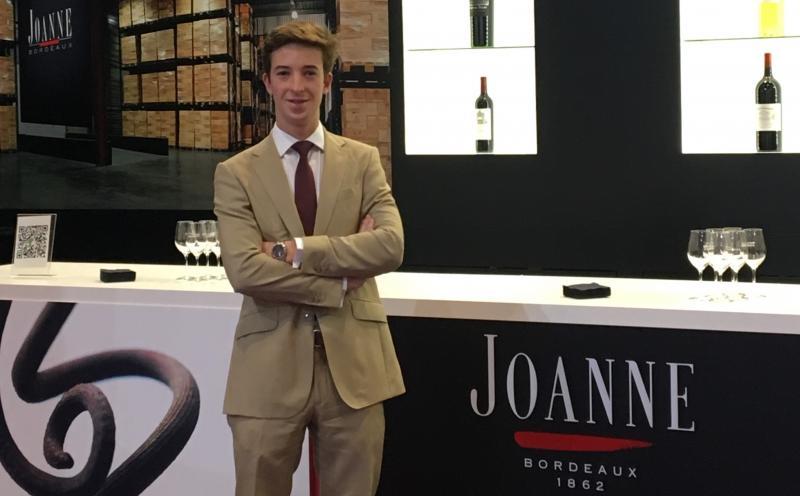 Jean-Quentin Prats from Bordeaux is a wine enthusiast. In his second year, Jean-Quentin served as vice president of the Sciences Po oenology club, In Vino Veritas. In third year, thirsty to learn more about wine and wine-related occupations, he did an International Volunteers in Business (VIE) internship in Hong Kong with Bordeaux fine wines merchant Maison Joanne. Now in his first year of the Master of Finance and Strategy, Jean-Quentin told us about his experience as an intern.
Why did you decide to do an internship for your third year abroad ?
At just 20 years old, we get the chance to go abroad for over a year to the place and context of our choosing. For my third year, I was keen to leave the university environment and get some serious work experience. It was an opportunity to learn by doing and discover a new world. And the ease of a university exchange didn't really appeal to me. I wanted to try something more atypical and exciting.
How did you find this opportunity ?
I already knew of Maison Joanne. It's a family business that's been in the Bordeaux wine trade for 150 years and is the leading exporter of Bordeaux fine wines. I had already been able to do a short summer internship with them and had really enjoyed the experience. The managers were willing to take me on for a new assignment, this time based alone in Hong Kong through the International Volunteers in Business programme.
What did the internship involve ?
I had a range of duties. First, I had to develop fine wine sales with our existing partners and acquire new clients among fine wine importers. At the same time, I was very active in promoting Bordeaux fine wines—meeting the sommeliers of fine restaurants and organising events for private wine enthusiasts. In partnership with our local importers, we travelled all over Hong Kong and China sharing the history of these great wines with wealthy collectors.
What did you like most about it ?
I really enjoyed meeting Asian fine wine enthusiasts! The magical thing about this business is that you get to meet tremendously successful people. I spent time with leading businesspeople, lawyers, doctors and politicians. I realised that fine French wines are much more coveted and fashionable abroad. Wealthy Asian wine buffs appreciate the values and lifestyle the wines symbolise as much as the product itself. Bordeaux fine wines are as much a cultural experience as a drink.
What did you find most difficult ?
There were many difficulties, but that's all part of the experience: struggling to make your sales prospecting effective, dealing with fierce price competition, getting our distributors enthused, fitting in to the sophisticated world of fine wine collectors, dealing with the physical demands of an endless round of dinners every month, etc. But I had the unwavering support of the Maison Joanne staff from start to finish; I was working in a top class environment.
Was it hard for you to get a visa ?
Absolutely not. It's a well-oiled system. Hong Kong offers simplified visas so it's one of the easiest places to set yourself up and work for a while.
Do you have a medium-term career plan ? Did this experience help you narrow down your career choices ?
I'm not closing any doors because I still have so many fields and occupations to find out about during my Master's. But it's true that so far, the world of Bordeaux fine wines has me particularly interested. There are a lot of opportunities and the jobs are fascinating. Plus I'm beginning to understand the nuts and bolts of it.
In any case, a third-year internship helps you grow up faster than at any other time in your student life, whatever form it takes. It's by diving into a company at a young age and for an extended period that you learn the most. Then when you return to Sciences Po for a Master's programme, you get even more out of it. I will never be be able to thank the team at Maison Joanne enough for their trust and the experience they offered me.
Find out more
Last modified 2018-12-04
04.09.2023
If you are looking for interns or future employees, our guide 'Recruit at Sciences Po' will provide the relevant information about our students, the careers we train them for and how to leverage this great pool of talent to meet your recruitment needs.
06.09.2023
Launched by two graduates (class of 2020) from Law School : Agnès de Fortanier (Master in Economic Law) and Thomas Harbor (dual degree Sciences Po HEC), What's up EU is a newsletter putting together a concise, well-documented, and informative weekly wrap-up of the news that matters at a continental scale — from a European perspective. Sciences Po Careers interviewed Augustin Bourleaud, in charge of its edition, who is currently a double master's degree student between Sciences Po and the London School of Economics.
Read more news