Homepage
> Maxime, Human Right Defender (L'Oréal), graduated from The Law School
Maxime, Human Right Defender (L'Oréal), graduated from The Law School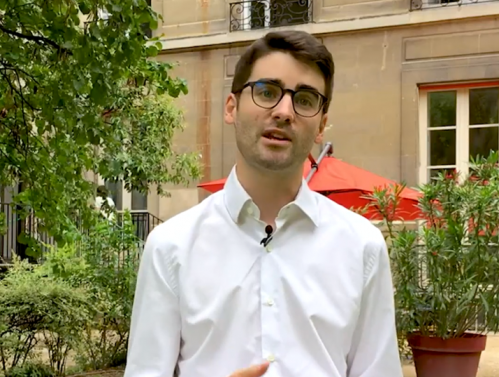 Maxime Belingheri is a 2015 graduate of the Law School. Today, he is Head of Human Rights at L'Oréal and maintains strong ties with Sciences Po both as a teacher and as a tutor in the Law School's Clinic. Focus on his missions for the world leader in beauty and the issues entrusted by L'Oréal to students in the context of the Law School Clinic, in favor of the respect of Human Rights within the Group's activities.
What does your role as Human Rights Manager entail?
The core of my job is to ensure that L'Oréal's business operates in accordance with international standards, which are UN standards that have been almost universally signed and ratified by UN member states. These include rights such as the prohibition of child labour, forced labour, freedom of expression and association...what is central is to take the risk to the individual that a company may run through all its activities wherever it operates.
Who do you work with on a daily basis?
On a daily basis, I work with the different functions of the Group: Purchasing, HR, Marketing to help them in operational projects for the deployment of the respect of Human Rights throughout the Group and its value chains, everywhere in the world.
Can you give an example of a concrete project?
One concrete commitment is the Living Wage, a commitment by L'Oréal to ensure a living wage that covers the basic needs of a worker and his or her family. L'Oréal has made this commitment not only for all of its 85,000 employees, but also, by 2030, for all the workers of its strategic suppliers. In concrete terms, this means that a worker in a factory of one of L'Oréal's strategic suppliers in China, the United States or Argentina will see his or her salary at least above the poverty level, which is higher than the national minimum wage in many countries around the world.
What do you find most difficult about your job?
In human rights, one of the difficulties is the complexity of the interweaving of global standards on the one hand and local or national standards on the other. You need to have the agility to balance the two and above all to measure the final impact that you will have on human beings, whose rights must be protected in the end.
Any advice for students?
For students who have the opportunity, it would be to join the Law School Clinic's projects and the projects that are proposed to them. These are projects that allow them to implement and test their knowledge in the field and begin to have a real impact on the life of a company.
What is the project that L'Oréal has entrusted to the Law School Clinic?
In 2020-21, the project focused on the stereotypes that may be conveyed by L'Oréal's communications and marketing. As the world's third largest advertiser, the potential impact of the group's communications and marketing is potentially significant.
Concretely, the project consists of a background research phase. Then, they started a phase of interviews with internal L'Oréal employees who work on advertising: the marketing teams, the consumer intelligence department, the marketing purchasing department, but also external stakeholders: NGOs active on these subjects or academics who have an opinion or issues to share.
What were the concrete results of this project?
The students submitted a final report which they presented to several governance committees within the group. The feedback from these L'Oréal bodies was very positive and we are therefore delighted to have been able to entrust this project to Sciences Po students as part of the Law School Clinic.
What other ties do you have with Sciences Po today?
In addition to the friendships and strong memories I have of Sciences Po, I have taught courses on discrimination on the Reims campus and regularly speak in various courses. Finally, since 2020 I have had the pleasure of tutoring projects as part of my missions within the Law School Clinic.
TO GO FURTHER
Last modified 2021-12-15
04.09.2023
If you are looking for interns or future employees, our guide 'Recruit at Sciences Po' will provide the relevant information about our students, the careers we train them for and how to leverage this great pool of talent to meet your recruitment needs.
06.09.2023
Launched by two graduates (class of 2020) from Law School : Agnès de Fortanier (Master in Economic Law) and Thomas Harbor (dual degree Sciences Po HEC), What's up EU is a newsletter putting together a concise, well-documented, and informative weekly wrap-up of the news that matters at a continental scale — from a European perspective. Sciences Po Careers interviewed Augustin Bourleaud, in charge of its edition, who is currently a double master's degree student between Sciences Po and the London School of Economics.
Read more news