Homepage
> Floriane, Manager and Adaptation Lead (Carbon Trust), graduated from the urban school
Floriane, Manager and Adaptation Lead (Carbon Trust), graduated from the urban school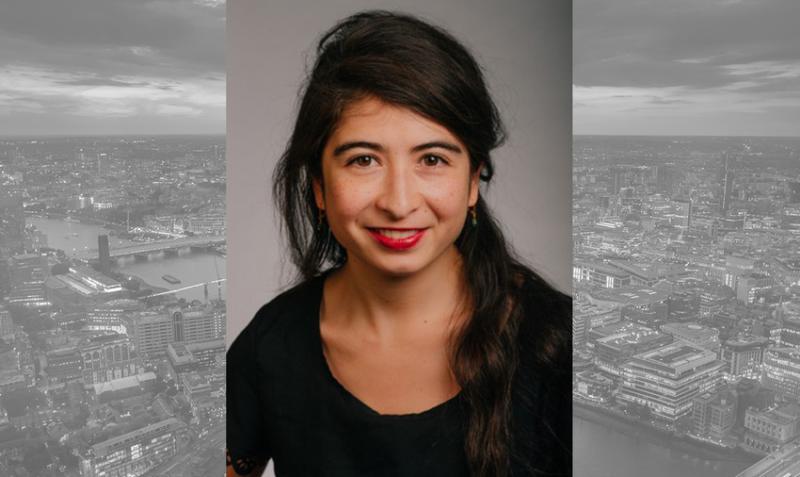 After her undergraduate studies at Sciences Po and a third year abroad at the Universidad Nacional Autónoma de México, Floriane decided to pursue a dual Master's degree in Urban Policy. She completed her first year in the Master of Regional and Urban Strategy programme, then went to the London School of Economics (LSE) for the second year in Regional and Urban Planning Studies. Floriane graduated in 2012 and is now Manager and Adaptation Lead at the Carbon Trust. She told us more about her career.
What is your current job?
I work for The Carbon Trust, a British consultancy that helps organisations reduce their carbon emissions. Founded as a publicly funded agency 20 years ago, the Trust went private in 2010 due to budget cuts and expanded internationally. Today, we have about 300 employees all over the world: Brazil, China, South Africa, USA, Amsterdam...
I'm on the Cities and Regions team and I help local authorities, mostly in the UK, to reduce their carbon emissions. That can be emissions from transport, buildings, energy etc.
At the start of the year, I began a placement with the South Africa team in Pretoria. There, we're helping private companies reduce their carbon emissions. At the moment, for instance, I'm working with a diamond mining company.
What do you like most about your job?
First of all, I get to work on something I'm passionate about: climate change. That's one of the reasons I chose a Master's in urban planning in the first place. I believe that cities have a key role to play in reducing carbon emissions. Hence my role in the Cities and Regions team, which perfectly combines two of my passions: climate change and the urban world.
The second thing I really like is my work environment. I'm surrounded by fantastic colleagues who are all just as motivated, brilliant, and friendly as each other. It's a real pleasure and I'm reminded every day that this is a unique opportunity.
Can you tell us about your career path since graduation?
During my year at the LSE, I had a course where we talked a lot about the Colombian urban experience and particularly the city of Medellin, which had managed to overcome poverty and put years of drug cartels behind it to become a model city. It made a major impression on me, as it did on a lot of students I think, and I really wanted to go there. Unfortunately, I didn't manage to find a job from a distance. So I started with a six-month internship in France, at the Cour des Comptes, which was very interesting. I worked on regional public administration—the bodies that represent the state at regional level. We had to determine whether a body was optimal, make sure there were no overlaps, and propose solutions to optimise the regional organisation.
At the same time, I continued to look for a job in Colombia but with no luck. So when the internship was over, I packed my bags and got a one-way ticket to Bogota, where I found exactly what I wanted after three weeks! I was hired by an urban planning consultancy, the Fondacion Ciudad Humana, which specialises in climate change issues. I worked on a project funded by the French Development Agency (AFD) that was helping 11 Colombian cities adapt to climate change. We offered solutions for reducing the climate risks affecting Colombia through local urban planning. It was a wonderful experience but I hated Bogota.
After the nine-month contract, I decided to return to Europe. I then got an opportunity to work with the NGO WaterAid, which had partnered with the British architectural firm Sheppard Robson. They had a joint project in four cities in sub-Saharan Africa: Lagos (Nigeria), Kinshasa (Democratic Republic of Congo), Luzaka (Zambia), and Maputo (Mozambique). The aim was to build their capacity to supply drinking water and sanitation. Our role was to support these cities' rapid growth by ensuring that the population had access to drinking water and wastewater treatment. It was one of my most complicated projects technically-speaking and kept me busy for over a year.
I was 25 at the time and had always wanted to go and live in Vietnam, as I am half-Vietnamese and had never lived there. So I joined the international office in Hanoi of the environmental consultancy Asconit Consultants, an organisation that no longer exists. I had a lot of responsibility, which is one of the advantages of the Volunteer for International Experience (VIE) scheme through which I joined Asconit. I worked a lot on the Hanoi metro, which was already under construction at the time. One of the projects, run with a Japanese urban planning and transport company, was to create stations for one of the metro lines that could accommodate green modes of transport such as walking, cycling or scooting. I stayed there for almost two years.
When I returned to the UK, I started freelancing. It was tricky at first and I didn't know exactly what I should be doing. As I'm an avid cyclist, I decided to start delivery riding for Deliveroo on the bike I had just brought back from Vietnam. Then I started getting assignments and doing quite diverse things: for instance, I worked with my former Japanese client from Vietnam, with the LSE, and with an investment fund that was looking for a Spanish speaker.
After spending five years doing projects in emerging countries, I wanted to work on projects in the country I lived in. I was given the chance to join a large civil engineering company, AECOM, which has about 100,000 employees worldwide. I worked on local economic development and urban renewal projects, mostly in London. Then the Carbon Trust advertised a position for their first urban practitioner and I have been there for three years now. Since I started, two more urban policy and planning colleagues have joined us!
What did you gain from your education at Sciences Po and LSE?
Sciences Po is good at educating minds and teaches us to structure our thinking, to ask ourselves the right questions and to challenge things. The second aspect is that we get a broad-based education, which lets us do a bit of everything. That's why I have been able to have varied jobs and go into different sectors. In addition, we are taught to make quick and effective decisions, which means that we can quickly perform well in a new job.
The London School of Economics had a really international environment, which was very enriching. The people I met there were completely different from the people at Sciences Po. They were generally older with a few years of work experience. The LSE is also very well known abroad, which is probably why I was able to get the opportunity in Colombia. It's also an incredible network that I'm still in contact with, especially living in London.
Discover the podcast with Floriane about gender inequalities and urban resilience realised by the LSE : Progressing Planning
Last modified 2021-11-24
04.09.2023
If you are looking for interns or future employees, our guide 'Recruit at Sciences Po' will provide the relevant information about our students, the careers we train them for and how to leverage this great pool of talent to meet your recruitment needs.
06.09.2023
Launched by two graduates (class of 2020) from Law School : Agnès de Fortanier (Master in Economic Law) and Thomas Harbor (dual degree Sciences Po HEC), What's up EU is a newsletter putting together a concise, well-documented, and informative weekly wrap-up of the news that matters at a continental scale — from a European perspective. Sciences Po Careers interviewed Augustin Bourleaud, in charge of its edition, who is currently a double master's degree student between Sciences Po and the London School of Economics.
Read more news