Homepage
> Comment Capgemini Invent accompagne les étudiants et jeunes diplômés en situation de handicap
Comment Capgemini Invent accompagne les étudiants et jeunes diplômés en situation de handicap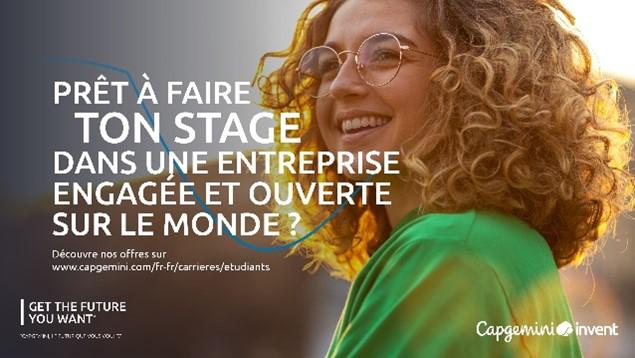 Engagé en faveur de l'emploi des personnes en situation de handicap, Capgemini Invent soutient le programme Sciences Po accessible depuis plus de 10 ans. Quelle politique d'emploi et d'insertion des étudiants et diplômés en situation de handicap est-elle mise en place au sein du groupe? Sandrine Rossignol, Responsable de Mission Handicap au sein de Capgemini Invent répond à nos questions.
Depuis combien de temps êtes-vous partenaire du programme Sciences Po Accessible et en quoi ce partenariat est important pour vous ?
Sandrine ROSSIGNOL (S.R) - Depuis plus de 15 ans, l'engagement en faveur de l'emploi des personnes en situation de handicap est au cœur de la politique diversité du Groupe.  
À l'origine, il y avait l'envie de construire un projet ensemble qui permettrait de donner à tous les talents une chance. Depuis 10 ans maintenant, nous partageons les mêmes valeurs et c'est ce qui anime notre partenariat.
Quelles sont les actions mises en œuvre au sein de Capgemini Invent pour faciliter l'accueil des étudiants et des jeunes diplômés ?
(S.R) - Depuis 2006, nous développons une politique active d'emploi et d'insertion des personnes en situation de handicap. En s'appuyant sur les différents acteurs de l'entreprise et les dispositifs mobilisables, l'emploi des personnes en situation de handicap est une réalité. 
Nous accompagnons les étudiants et jeunes diplômés en situation de handicap tout au long de leur carrière et en particulier à tous les niveaux d'intégration : en amont du processus de recrutement, lors des entretiens et une fois le contrat signé tout au long du suivi de la carrière. Nos équipes sont sensibilisées aux modalités d'intégration des personnes en situation de handicap afin de garantir un environnement inclusif. La Mission Handicap est ainsi un appui de proximité toujours disponible qui apporte sa vision du monde du travail pour préconiser les aménagements qui seront les plus adaptés.
Les actions suivantes peuvent être mises en place : recrutement (tutorat, posture, aménagements…, ), aides techniques (matériel, service de taxi, logiciel…), organisationnelles (absences pour soin, aménagement du temps travail, …), coaching pour appréhender les impacts du handicap, sensibilisation des collaborateurs afin de déconstruire les représentations. Bien entendu, ce processus d'accompagnement se déroule dans le respect du niveau de confidentialité choisi par les collaborateurs en situation de handicap.
Quel message vous feriez passer à des étudiants et jeunes diplômés en situation de handicap qui aimeraient travailler chez vous ?
(S.R) - Les étudiants et jeunes diplômés ont tout intérêt à faire part de leur situation afin que nous puissions mettre en place les aménagements qui répondront au mieux à leurs besoins.
La mise en place d'un accord handicap illustre le positionnement inclusif de Capgemini Invent. Nos recrutements ciblent avant tout la multiplicité de vos compétences et de vos personnalités.
La démarche d'obtention de ce statut de RQTH est importante et a plusieurs impacts :
Du point de vue de l'employeur, ce statut permet d'augmenter le taux d'emploi, ce qui contribue à faire évoluer les représentations.
Pour le collaborateur, cette démarche l'invite en premier lieu à réfléchir sur sa situation et lui permettra ensuite de bénéficier des aménagements proposés par l'accord handicap de l'entreprise.
En savoir plus
Vous êtes étudiant en situation de handicap et souhaitez vous entretenir avec un conseiller carrières? Contact : Fabrice Barthelemy
Last modified 2023-03-17
03.04.2023
If you are looking for interns or future employees, our guide 'Recruit at Sciences Po' will provide the relevant information about our students, the careers we train them for and how to leverage this great pool of talent to meet your recruitment needs.
22.03.2023
Launched by two graduates (class of 2020) from Law School : Agnès de Fortanier (Master in Economic Law) and Thomas Harbor (dual degree Sciences Po HEC), What's up EU is a newsletter putting together a concise, well-documented, and informative weekly wrap-up of the news that matters at a continental scale — from a European perspective. Sciences Po Careers interviewed Augustin Bourleaud, in charge of its edition, who is currently a double master's degree student between Sciences Po and the London School of Economics.
Read more news