Homepage
> ENA and Civil Service Exams: Record Results for Sciences Po Students
ENA and Civil Service Exams: Record Results for Sciences Po Students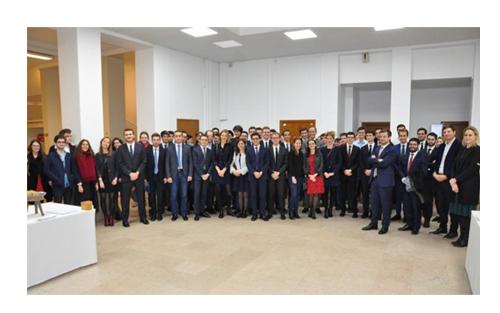 With 158 laureates at the civil service examinations in the last 12 months and Sciences Po students making up 80% of those admitted to the ENA (National School of Administration), Sciences Po's PrépaConcours programme has brought in record results in 2019.
80% of ENA laureates are Sciences Po students
The admission results to the external entrance examination to the National School of Administration (ENA) have just been released: 32 Sciences Po students are among the 40 admitted, making up 80% of the laureates. This result is up 20% compared to 2018.
These results cap an exceptional year for the Sciences Po PrépaConcours programme. The number of student laureates has increased by 40%. During the last twelve months, 158 students (+38% in one year) from Sciences Po have passed the 'concours' (civil service examinations) as varied as hospital director (42% of those admitted), directing manager of the Banque de France (68% of those admitted), Advisor to the Ministry of Europe and Foreign Affairs (67% of those admitted) or territorial administrator (63% of those admitted).
A recognised preparatory programme open to all
Since the start of the 2018 school year, the PrépaConcours programme has provided training adapted to the preparation for fifteen administrative entrance exams and issued an Advanced Certificate of Preparation for Careers in Civil Service (Certificat avancé de préparation aux métiers de la haute fonction publique): 183 students obtained the certificate this year. It is now the reference in France to integrate professions of high-level civil service.
The PrépaConcours programme of the Sciences Po School of Public Affairs welcomes Sciences Po graduates, second-year Master students as well as candidates with excellent academic backgrounds from other institutions: institutes of political studies, "écoles normales supérieures", universities, business and engineering schools, etc. Half of the candidates who passed the examinations from this "external" admission path have already successfully been admitted in 2019 (ENA, Inet, etc.).
More information
Last modified 2019-12-11
04.09.2023
If you are looking for interns or future employees, our guide 'Recruit at Sciences Po' will provide the relevant information about our students, the careers we train them for and how to leverage this great pool of talent to meet your recruitment needs.
06.09.2023
Launched by two graduates (class of 2020) from Law School : Agnès de Fortanier (Master in Economic Law) and Thomas Harbor (dual degree Sciences Po HEC), What's up EU is a newsletter putting together a concise, well-documented, and informative weekly wrap-up of the news that matters at a continental scale — from a European perspective. Sciences Po Careers interviewed Augustin Bourleaud, in charge of its edition, who is currently a double master's degree student between Sciences Po and the London School of Economics.
Read more news