Homepage
> Davide Giani, student in the Master in International Security with concentrations in Intelligence Studies and European Affairs
Davide Giani, student in the Master in International Security with concentrations in Intelligence Studies and European Affairs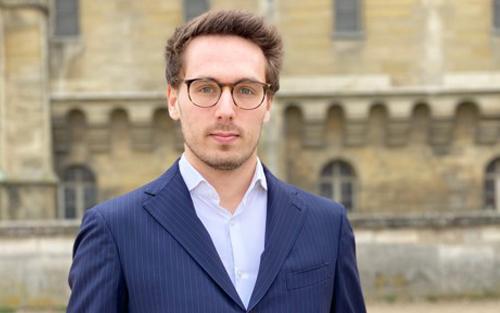 Davide Giani is a second-year student in the Master in International Security with concentrations in Intelligence Studies and European Affairs. He is currently working at LAM LHA, a consulting firm based in Paris that operates primarily in the fields of aviation security and border security.
How did you secure this role ?
In March of last year, I decided to start looking for a third-semester internship. While scrolling through pages of offers, I recalled seeing an announcement earlier in the year for a position at LAM LHA. The company's profile interested me, and although the offer had expired long before, I decided to get in contact with one of LAM LHA's consultants. I introduced myself and showed my genuine interest in the company's field of work and my understanding of some of the fundamental challenges surrounding technology and security. After a long email exchange and two in-depth interviews, I was offered a position that started in June 2019.
What is your role and main responsibilities?
As an intern in a small, agile and dynamic team such as LAM LHA's, I get to work on a wide array of topics, covering all of the company's activities. My main responsibilities include supporting the director and consultants with business development, client engagements, monitoring regulatory affairs at the EU level for a number of clients, researching and reporting on market and technological developments… no day at LAM LHA is the same! The company is positioned at the centre of a triangle made up of public authorities, tech companies and the aviation industry. Working with all of these stakeholders means jumping back and forth from public policy, to security, to technological innovation.
What is the most fascinating and/or surprising aspect at your role?
I was surprised to see how working in a small, nimble team improves both the perceived and actual importance of your work. My title as an intern never diminished the expectations of my colleagues or the responsibilities I was given. Moreover, when I joined LAM LHA, I had no idea of how vast and rich the security technology and security policy landscape was. I now have a better grasp of how policies are shaped and of what lies ahead in terms of technological developments. This awareness has enriched me personally and will be extremely valuable for any future career in the field.
How does your PSIA experience help you with the role?
First of all, at PSIA we develop fundamental skills like the ability to produce high-quality and reliable research on very different topics throughout our academic career. Secondly, PSIA's network, activities, and people were crucial in broadening my view on what opportunities lay in the public and private sectors. I am the seventh LAM LHA intern to have come from Sciences Po! All of the previous interns have gone on to successful careers both in and out of the aviation security field, and one previous Sciences Po intern is now a senior consultant at LAM LHA.
Last but not least, my studies give me an edge in the understanding of technology and policy. My concentration in Intelligence Studies in particular allows me to grasp the key features and associated challenges brought about by security technologies. My second concentration in European Affairs has proved extremely valuable to grasp the intricacies of policy developments in Brussels and Strasbourg.
What advice would you give to others?
Make the best of the time you have at PSIA. I did not fully realise how valuable my skills, knowledge and relations are before working at LAM LHA. Based on my experience, I've learned that you should trust your instincts and take the initiative!
Last modified 2019-12-16
04.09.2023
If you are looking for interns or future employees, our guide 'Recruit at Sciences Po' will provide the relevant information about our students, the careers we train them for and how to leverage this great pool of talent to meet your recruitment needs.
06.09.2023
Launched by two graduates (class of 2020) from Law School : Agnès de Fortanier (Master in Economic Law) and Thomas Harbor (dual degree Sciences Po HEC), What's up EU is a newsletter putting together a concise, well-documented, and informative weekly wrap-up of the news that matters at a continental scale — from a European perspective. Sciences Po Careers interviewed Augustin Bourleaud, in charge of its edition, who is currently a double master's degree student between Sciences Po and the London School of Economics.
Read more news