Homepage
> Julia Schmidt, graduated in International Economic Policy
Julia Schmidt, graduated in International Economic Policy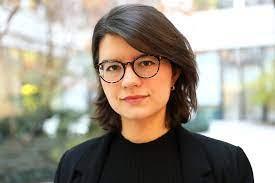 Julia Schmidt has graduated from the Master in International Economic Policy. She works as a Junior Policy Analyst at the OECD in the Statistiscs and Data Directorate.
What is your role and main responsibilities?
As part of a team of Data Scientists, Statisticians and Economists, we analyse the statistical capacity of low and middle-income countries and design technical assistance programmes to support their national statistical systems in adapting to the changing data environment.
My responsibilities include research as well as project management and strategic advice. Right now, I am writing a technical report on statistics and data in Africa in collaboration with the Mo Ibrahim Foundation. It analyses major bottlenecks to improving evidence-based policy making across the African continent and gives key recommendations to policymakers and national statistical offices. At the same time, I am managing two technical assistance projects in the Philippines and in Zambia. In the Philippines, we strengthen the sub-national statistical system to produce and disseminate better gender statistics. In Zambia, we aim to understand the demand for environmental statistics better and develop recommendations together with the statistical office on how to improve their environmental statistics.
How did you secure this role?
I applied via the job portal of the OECD and submitted all the documents they requested (CV, Motivation Letter, References, Transcripts etc.). A month later, the OECD invited me to take a written test, and later a panel interview in Paris. I was thrilled when I learned that I had been chosen from a wide pool of candidates for this position.
What is the most fascinating and/or surprising aspect at your role?
I believe that the most fascinating aspect about my job is to understand the link between good quality data and well-targeted decision-making. When I started my job, I did not know how many data gaps existed in Europe, and especially in countries that live through fragile situations such as civil wars and crises. While you are reading this, terabytes of data are being produced, but most of us do not know how to make sense of them, let alone how to use them for evidence-based policymaking. My team works hard because we want to help countries with low-capacitated statistical systems produce high quality data, harness the digital revolution, improve data literacy, and ultimately design better policies for better lives.
How did your PSIA experience help you with the role?
My work is quite fast-paced and PSIA certainly prepared me for this. However, I believe the research thesis I wrote in my third semester at Sciences Po was most important. In my thesis, I analysed the influence of urbanisation and economic development on voting behaviour in the state of Gujarat, India, using both qualitative and quantitative methods. For the quantitative part, I built a dataset from census data, electoral records and administrative data I had collected from the state government. Due to the data scarcity on voting behaviour on sub-national level, I also conducted over 70 qualitative interviews with citizens across diverse socio-economic backgrounds in four weeks of fieldwork. Overall, the master thesis fundamentally transformed the way I think about data collection, hypothesis building and empirical validation. Statistics are never fully objective. The data you collect ultimately carry your biases, perspectives and assumptions – and that is inevitable, so you need to be aware of them and make them transparent.
What advice would you give to others?
Use your experience at PSIA to explore your interests, take a variety of courses, speak to your professors and do not be afraid to embark on a research thesis. It is worth the hustle!
Learn more:
Last modified 2021-10-26
04.09.2023
If you are looking for interns or future employees, our guide 'Recruit at Sciences Po' will provide the relevant information about our students, the careers we train them for and how to leverage this great pool of talent to meet your recruitment needs.
06.09.2023
Launched by two graduates (class of 2020) from Law School : Agnès de Fortanier (Master in Economic Law) and Thomas Harbor (dual degree Sciences Po HEC), What's up EU is a newsletter putting together a concise, well-documented, and informative weekly wrap-up of the news that matters at a continental scale — from a European perspective. Sciences Po Careers interviewed Augustin Bourleaud, in charge of its edition, who is currently a double master's degree student between Sciences Po and the London School of Economics.
Read more news