Meet your school - Schools day - Reims Campus
In the month of March of your 3rd year at Sciences Po, you will be asked to select your master programm among a great variety of possible choices.It is time to start thinking about it !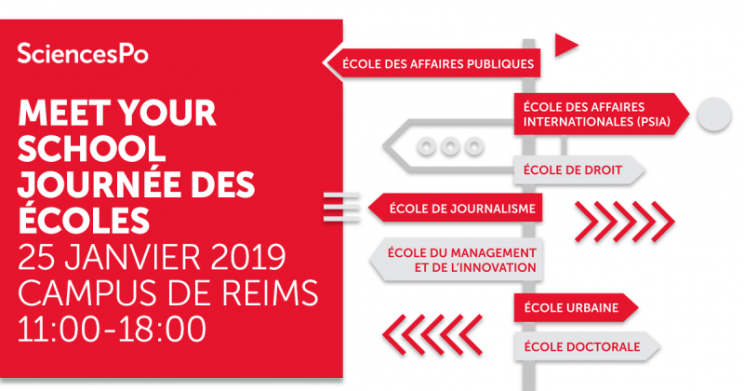 In order to help you select the best master programme, the day-long information session "Meet your School" will take place on your campus on Friday, January 25, 2019.
During that day, you will meet the deans of study of the seven Schools of Sciences Po and discover their programs. It will be a unique occasion to dialogue directly with the deans of study of each master, who will answer your questions on each program's specificity, admission prerequisites, job and career prospects, etc.
programme
11AM-12:30
SCHOOLS PANORAMA
LS01
Sciences Po Careers invites each School to introduce itself to you (project, identity...)
13:30-16:30
SCHOOLS INSIDE
Each school presents its masters programmes, dual degrees, admission conditions and career destinations. Together with masters students, academic teams will answer all your questions.
Session 1 : 1.30PM - 2.30PM
Session 2 : 2.30PM - 13.30PM
Session 3 : 3.30 - 4.30 - tbc
K301 Sciences Po Carrières
K302 Centre pour l'Entrepreneuriat
K303 School of Management and Innovation
K401 Law School
K402 School of Public Affairs
K403 School of International Affairs (PSIA)
K501 Urban School
K502 School of Journalism
K503 Doctoral School
16:30-18:00
CLOSING TIME WITH DRINKS FOR STUDENTS
Ancien Réfectoire.
11:00-18:00
Ancien Collège des Jésuites 1, place Museux
51100
Reims France
---
You have to sign in to take part in this event
Sign in