The School of Public Affairs educates public policy makers, policy analysts, researchers and policy implementers with a commitment to the common good. The young professionals who have graduated from the School perform functions requiring a panoramic view of public affairs, in both the private and public sectors at the local, national, European and international levels, and in a wide range of fields (public administration, consulting, security, defence, health, energy, culture, new technology, etc.).
Who are our 2118 students?

Where do our graduates work?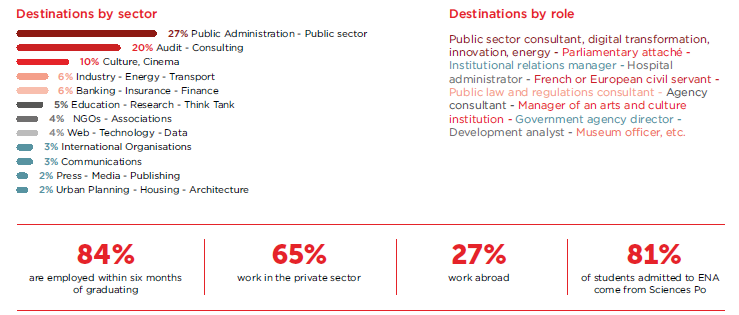 Recruiting interns / apprentices

PARTNERS COMPAGNIES OF THE SCHOOL
Contacts
02.09.2021
Over the course of these three days, you will have the chance to meet with numerous Sciences Po students and graduates. All will be actively seeking internships (whether as a mandatory part of their master's course or for a gap year), apprenticeships, fir
15.07.2021
The results of the 2021 Graduate Employability Survey on the class of 2019 show that Sciences Po students remain very attractive to employers, with 9 out of 10 graduates in professional activity. Despite a job market facing difficulties, 82% of our 2019 graduates found their first job in less than 6 months, and nearly ¾ of them have a stable profession. There are still just as many (37%) working abroad, in 84 countries. Discover all the results of our survey!
Read more news